Research your SERP keyword rankings like a pro
The first browser made for search professionals
The ultimate visual SEO ranking tool
Do you spend your working hours analysing the Google search results pages? Are you still manually switching VPNs, clearing cookies and manipulating URL parameters to try to get a trustworthy search results page? SEOBrowse is the first browser made for helping you with SEO, SEA or any other search engine keyword research.
Perform professional keyword research by having direct access to trusthworthy SERP results. Every search query is tunneled through a proxy, providing you clean search results to research, track, report and improve your properties presence in the search engines.
Features:
A custom Chrome-based browser with build-in (multi-country) VPN.
Build for trustworthy keyword rankings research.
Quick visual reporting and sharing.
Works with Google, Youtube, Bing, Amazon and more...
Our tool also works great for ad review teams, content teams and compliance departments. See an overview of all SEOBrowse's features or subscribe now to start a 14-day trial.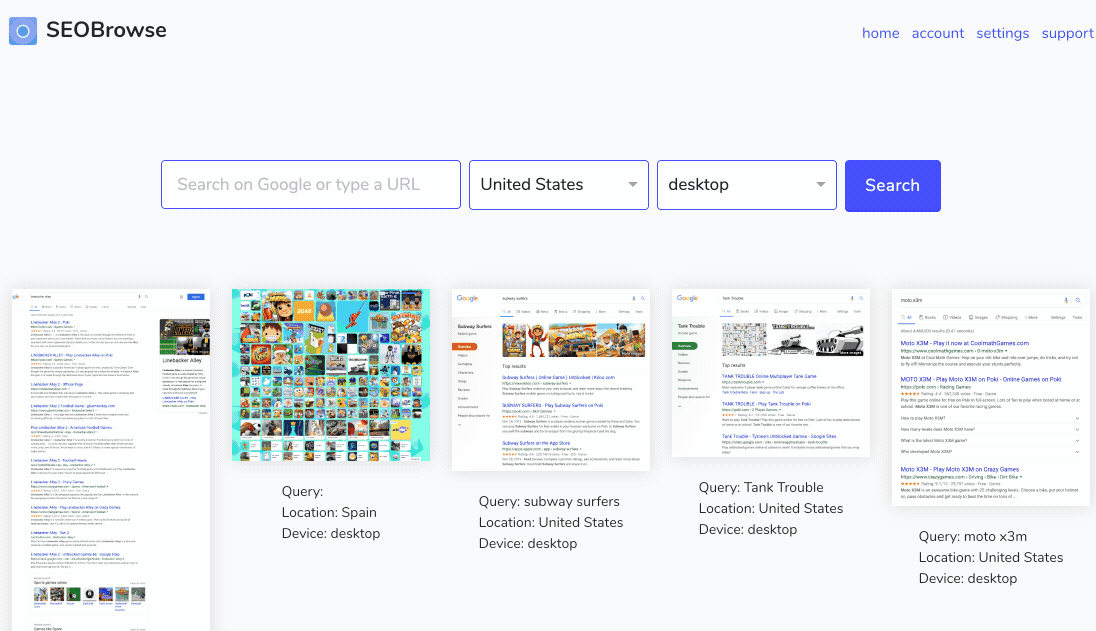 Screenrecording of a session researching "moto x3m" in Google.
Get the best tool for keyword research today
Frequently Asked Questions
What is SEOBrowse?

SEOBrowse is a software tool available for MacOS and Windows. At its core SEOBrowse has a Chrome-based browser, with a custom user interface that allows your to control your search session (device, location) and adds specialized tools to perform professional keyword rankings research and reporting. See all features.

Can I try SEOBrowse for free?

To use SEOBrowse you need an active subscription plan. Every plan comes with a custom international VPN endpoint. Luckily each plan comes with a free 14-day trial. In that period you can try SEOBrowse for free, but you need to provide valid creditcard information. You can subscribe here.

How does SEOBrowse work?

SEOBrowse is a Chrome-based browser with a custom user interface giving access to advanced keyword results tools. Every search query goes through a country-specific VPN without any existing browser session information. This allows you to see clean and trustworthy search results.

Why do I need a subscription?

Each search query goes through a (local) VPN to create a clean and trustworthy search session. The VPN infrastructure is a costly operation, for which the subscription model covers its costs. Also to provide continuous updates to the software, we use the subscription revenue to continue adding new tools and be a healthy business overall.

Who created SEOBrowse?

SEOBrowse is created by Yvo Schaap, a CTO/Entrepreneur/SEO consultant and advisor who offers premium international seo services.

How can I get in touch?

Email us at hello@seobrowse.com for support, questions or any other request.

What restrictions are on the VPN access?

We don't allow streaming of audio or video. We have capped the download bandwith at 1 GB/month. We monitor any unusually behaviour that could abuse our services, or that of any party on the web.